RM 80.00 - Sabah /Sarawak
FREE POSLAJU
BOLEH DIPAKAI DARI MEREKA YG BERSAIZ S
HINGGA LAH XXXL ( 150 KG KEATAS ) LELAKI DAN PEREMPUAN BOLEH PAKAI.
Untuk membakar lemak2 di perut serta sangat disarankan
untuk ibu2 yang baru bersalin...
seolah2 anda berTANGAS
Sauna Pants untuk lengkapkan sesi slimming anda di rumah ...Fungsi sauna pants untuk shapekan
sekitar perut,peha dan punggung sahaja..oleh itu anda gunakan semasa tidak bersauna..dan perlu
bersauna untuk membakar lemak seluruh badan..Miliki nya untuk kesan yang maksimum!! .
FREE SIZE dan adjustable
FUNGSI SAUNA PANT
Sauna pant ( seluar sauna) ini amat berkesan jika ia digunakan untuk mengempiskan perut &
mengecilkan paha. Selain daripada itu ia juga memberi kebaikan dari segi kecantikan dan kesihatan.

Kecantikan
Mencantikkan kulitMengempiskan perut yang buncitDapat menjadikan tubuh lebih kemas dan
membentuk semula pinggul secara semulajadi

Lepas Bersalin
Mengecutkan perut, rahim, paha,menyembuhkan luka-luka dalaman, serta menjadikan ibu lebih
bertenaga dan cergas.

Pelangsingan Badan
Membakar lemak (sehingga 600 kalori),mencairkan selulit dari luar sama seperti
berjogging sejauh 5kmberkesan untuk menguruskan badan.Tungku moden (elektronik)
Kesihatan
Mengurangkan kesakitan anggota badan,sakit urat, sendi, sengal-sengal tulang,menghilangkan
tekanan dan perehatan otot.meningkatkan sistem kardiovaskular dan sistem imunisasi badan.
menghilangkan toksik dalam badan seperti aluminium, cadmium, lead dan mercury.
meningkatkan tahap metabolisme, melancarkan pengaliran darah,memecahkan
lemak yang berlebihan, mengurangkan penyakit jantung, strok dan darah tinggi serta anti-penuaan.
CARA-CARA MENGGUNAKAN SAUNA PANTS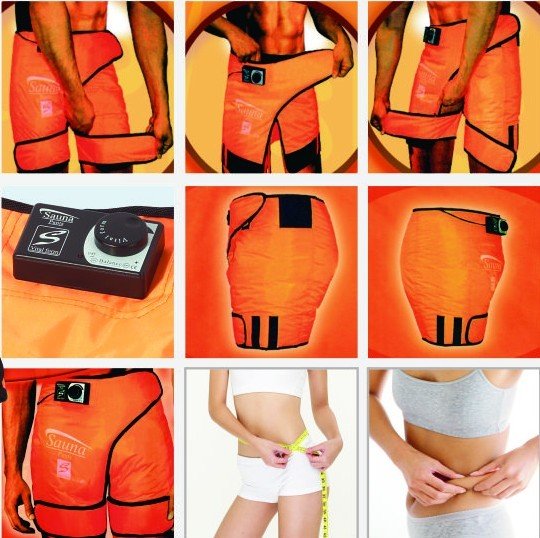 LIHAT GAMBAR CARA PAKAI.
Untuk menggunakan sauna pant ini, dinasihatkan untuk memakai seluar cotton pada sebelah dalam terlebih dahulu.


Jangan pakai sauna pants ini tanpa sebarang lapik. Seluar cotton akan berfungsi untuk menyerap peluh yang akan keluar apabila memakai sauna pant tersebut.


Pakai SAUNA PANTS dalam keadaan yang selesa (baring atau berdiri). Jangan duduk atau meniarap kerana ini akan mendatangkan masalah kepada alat sauna.


Jangan gunakan losyen atau seumpamanya ketika menggunakan SAUNA PANTSkerana pori-pori akan terbuka luas dan boleh menyebabkan reaksi pada kulit. (allergi/gatal2)


Digalakkan minum minuman panas spt air suam. Elakkan minum minuman sejuk. Jangan gunakan SAUNA PANTS sekurang-kurangnya 2 jam selepas makan. Untuk mendapatkan kesan terbaik, pakai SAUNA PANTS untuk 50 minit pada satu masa.
SAIZ : SEBENARNYA SELUAR SAUNA INI DICIPTAKAN SESUAI DENGAN
SEMUA SAIZ ( IA BERPELEKAT –RUJUK GAMBAR )
BOLEH DIPAKAI DARI MEREKA YG BERSAIZ S HINGGA LAH XXXL
( 150 KG KEATAS ) LELAKI DAN PEREMPUAN LEH PAKAI.
SETIAP PENGHANTARAN AKAN DISERTAKAN CARA GUNA,TAPI SAYA TERANGKAN
SEDIKIT DISINI,IANYA HARUS ANDA PAKAI KETIKA BERBARING ATAU BERDIRI,
KEMUDIAN MASUKAN KE PLUG DAN TEKAN BUTANG MODE,IA AUTOMATIK
AKAN PANAS MENGIKUT SUHU YG BERSESUAIAN ,KEMUDIAN AKAN BERHENTI
SENDIRI APABILA SUHU SESUAI DENGAN TUBUH BADAN,ANDA BOLEH CABUT PLUG
SELEPAS RASA PANAS DAN TERUSKAN BERSAUNA SELAMA 1 JAM SETIAP HARI!
LEBIH LAGI BAGUS!
KESIMPULAN :-
Sauna pants menawarkan banyak manfaat sama seperti sauna yang dilakukan secara tradisional, tetapi mempunyai satu keuntungan besar.
Anda boleh menikmati sauna panas dalam keselesaan rumah anda sendiri!Selain itu,
anda boleh memfokuskan sauna ke bahagian tubuh yang anda rasa sangat memerlukan
perkhidmatan sauna tersebut!!
Sauna pants mudah alih ini sangat bagus untuk perut, pinggang, punggung dan pinggul.
A new revolution for sauna itself! Sauna Pants offers many of the benefits of the traditional
heat sauna. You can enjoy sauna heat in the comfort of your own home!
You can focus the heat on those body parts that need it most. This portable sauna is great
for the abdomen, waist, back and hips. You can fix the temperatures at the maximum
when you're starting the sauna pants to speed up the heat. After a few minutes,
you can lower the temperature to your liking. Adjustable heat-treatment function
make massage more comfortable.
SPECIFICATIONS:
Supply: At 220V / 50Hz

Loading Power: < 65W

Enactment Time: 5 – 60min.

Temperature Range: 35*c – 75*c (adjustable)

Color: Orange


Size: Free size – One size fits all (28" – 54")