Harga : RM 35.00 (sm)/RM 40.00 (ss)Unit **
FREE POS
Bedak asas yang berasaskan tumbuhan organik (japanese white flower).
Bedak asas ini keluaran meiko cosmetic Inc.
Anda akan kelihatan cantik dan menawan.
Dalam sekelip mata anda seperti artis ataupun model.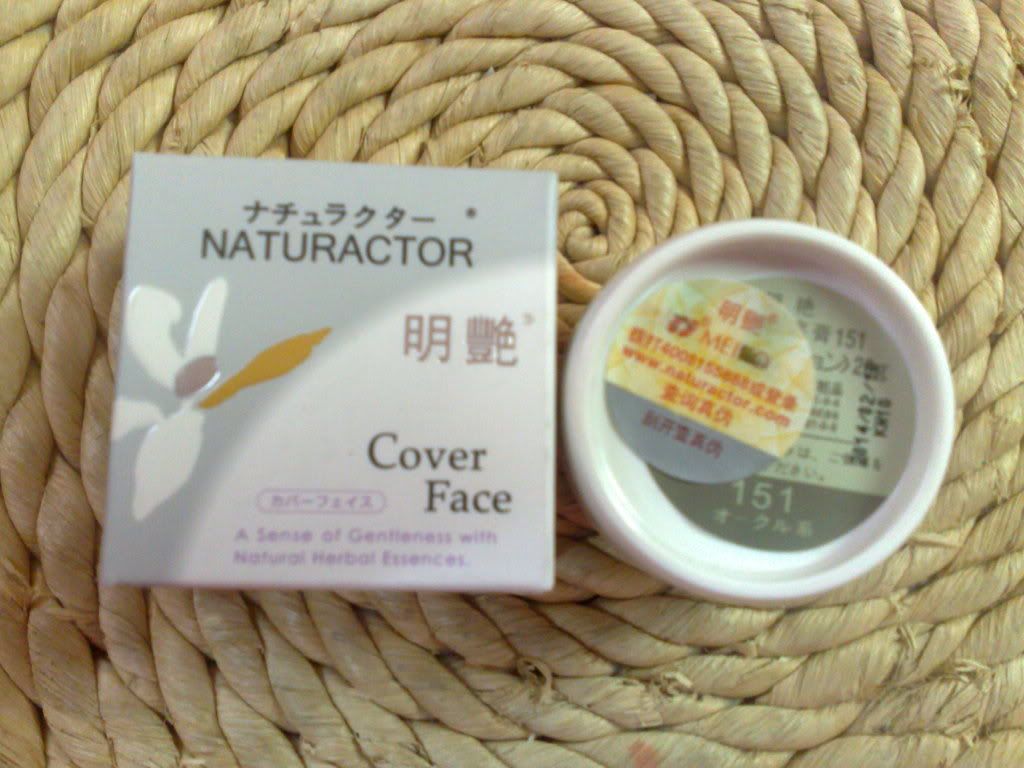 KOD PILIHAN:
130 = for very fair skin - pinky tone
140 = for chinese skin - pink undertone
141 = for chinese & fair malay skin - yellow undertone
151 = for medium skin - yellow undertone, easy to match with chinese & malay skin

NATURACTOR FOUNDATION ADALAH KRIM YANG MAMPU MENGEKALKAN MAKE-UP LEBIH LAMA DAN MENUTUP PARUT DI WAJAH ;)
SIAPA PENGGUNA?
Anda mungkin tertanya-tanya. Siapa yang pernah menggunakan bedak ini?
Tak pernah pun dengar produk ini?
Antara pengguna produk ini adalah :-
•Mak andam atau pak andam
•Make up artis
•Anda??bila lagi...
JIMAT!!!!!!
Anda boleh berjimat dengan menggunakan bedak ini.
Bedak ini boleh digunakan selama 6 bulan hingga 1 tahun.
Bedak asas biasa hanya boleh digunakan selama sebulan atau 2 bulan
KELEBIHAN NATURACTOR FOUNDATION CREAM
Anti kilauan / tidak berminyak.
100% menutupi pegmentasi, parut, cela, jerawat, dan noda hitam
Ringan dan lembut pada kulit seakan-akan anda tidak memakainya
Melindungi kulit dari sinar uv yang menyebabkan pigmentasi
Senang digunakan dan tidak melekit
Bertahan hingga 12 jam, berbanding bedak biasa hanya 1 jam.
Tidak menutup pori-pori
Sering digunapakai oleh makeup artis professional
Ok untuk memudahkan you all nak tentukan kulit muka sesuai dengan colour ape, boleh tengok contoh kulit muka kat gambar bawah ni.
Code 130- Very Fair (pinky tone) Macam kulit Sofia Jane ni
Code 140 - Fair (yellow tone) macam kulit Rossa ni
Code 141 - Natural/beige . Macam kulit Bunga Citra Lestari
Code 151- tanned brown. Macam kulit Fasha Sanda yang tak berapa nak putih dan tak berapa nak gelap
Code 152- Kulit hitam manis macam Nurul. dark skin.
Anti Kilauan/ tidak berminyak

100% menutupi pigmentasi, parut, cela, bekas jerawat, & noda hitam

Melindungi kulit dari sinar uv

Senang digunakan, cepat & yg penting tak melekit!!

Tahan lama sehingga 12 jam dan satu bekas boleh tahan hampir setahun untuk habiskan. Pakai sikit pon dah cukup sebab texture dia memang dah padat.

Tidak menutup pori-pori

Digunakan oleh makeup artist sendiri

Kulit terasa ringan, gebu & hasil solekan akan nampak flawless dan natural

Bau dia best. takde bau2 pelik macam ada sesetengah foundation yang lain

Senang nak bawak pegi mana-mana sebab bekas dia mudah and ringan dbawa.