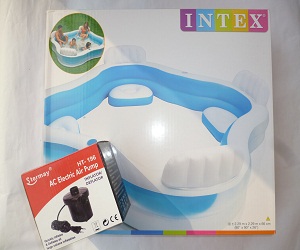 HARGA : RM 260 SM / RM 280 SS
FREE POS
FREE GIFT ELECTRIC PUMP
Anda terlalu sibuk utk melayan membawa anak mandi di swimming pool/laut/wetland?
Risau dengaan masalah kebersihan/kesihatan anak2 apabila mandi di kolam awam?
Teringin nak 'join' mandi dengan anak-anak dlm swimming pool di rumah tapi tak muat pulak kannnn?


Penyelesaiannya... MILIKI PRIVATE WATER PARK!!!!
INTEX FAMILY LOUNGE POOL (ARMREST & BACKREST)
DENGAN HARGA YG LEBIH MURAH DAN TERHANGAT DIPASARAN
Product Description
✿ Pool Size : 90" x 90"x 26"
✿ Own your private water park!!!
✿ Brand : Intex
SPLASH WATER POOR
Material : High strength environmental protection PVC
Accessories : Inflatable Basketball, 4 Pieces of Loops, Slide
*Multi-functional pool, a pool and not only is a children's playground. With water features, slides, rings, vote blue. Can also be used as a ball pool, baby's favorite.